Drive-In Cinema (JULY)
Description



FREE with Registration


This PRIDE screening sponsored by
and
Event is free to attend - donations to RMWF are accepted and appreciated.
If the parking lot fills, walk-in attendees are welcome - don't forget a camp chair!
Friday, July 22, 2022
7:45 PM - Parking Lot Opens, Tailgate hosted by Inside Out
8:45 PM - Film Program Begins
The parking lot opens at 8:00 p.m., when we will welcome you with free POPCORN! We encourage attendees to TAILGATE hosted by this month's sponsor, Inside Out Youth Services (burgers, brats, salad, and beverages - while it lasts!), and socialize before the film program begins at 8:45 p.m. Get settled in your vehicle, turn the radio up, and enjoy a great film on a great big screen under the stars. Alternatively, and weather permitting, we will set up a speaker system for sound, so bring a CAMP CHAIR and layers to enjoy the film al fresco.

RMWF Drive-in Cinema is located at the former Gazette Building, just east of downtown (704 E. Colorado Ave, 80903). Special thanks to Norwood Development Group for providing this space where we can continue to build community around film.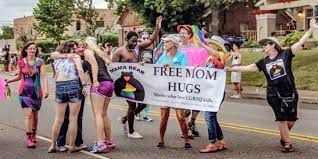 MAMA BEARS
Film Description:
Spread across the country but connected through private Facebook groups, they call themselves "mama bears" because while their love is warm and fuzzy, they fight ferociously to make the world kinder and safer for all LGBTQ+ people. Although some may have grown up as fundamentalist, evangelical Christians, mama bears are willing to risk losing friends, family, and faith communities to keep their offspring safe—even if it challenges their belief systems and rips their worlds apart.
MAMA BEARS is an intimate, thought-provoking exploration of the journeys taken by Sara Cunningham and Kimberly Shappley, two "mama bears" —whose profound love for their LGBTQ children has turned them into fierce advocates for the entire queer community — and Tammi Terrell Morris, a young African American lesbian whose struggle for self-acceptance perfectly exemplifies why the mama bears are so vitally important.
For more information about the Drive-In Cinema summer series visit rmwfilm.org/drive-in-cinema/
For Drive-In Cinema event policies click HERE